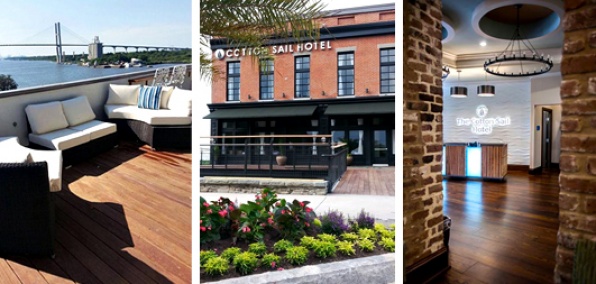 Socks.

T-shirts.

Seafood restaurants.

Rooftop bars.

Damn. Cotton factories have come a long way since the 1800s...

Feel the fabric of your life at The Cotton Sail Hotel, a late-19th-century cotton factory that's been conveniently converted into your new weekend leisuring quarters on the Savannah River, now taking reservations.

Picture a really old five-story brick building. The kind so old that no matter how much wi-fi and how many flat-screens you fill it with, it still feels like William Faulkner's writing room. And it still sounds like you're walking on 200-year-old heart of pine floors. Although that's definitely because you are.

After you and your lovely road trip accomplice have properly inspected the balcony of your riverfront accommodations, you may find yourselves in the mood for a comestible Southern delight or two. Good thing there's that seafood restaurant downstairs. Good thing it's got fried shrimp and Chatham Artillery Punch.

It's also a good thing that Top Deck, the hotel's rooftop bar with prime sunset-over-the-river-views-as-seen-from-a-Brazilian-hardwood-deck, is just a couple weeks away from existing.

Should make picking a weekend a bit easier.