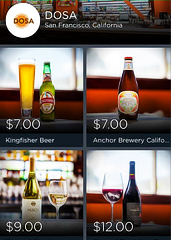 Nodding to a bartender and making a weird swirling motion with your finger: that's now the outdated way to signify you're getting your friends another round.
Texting your friends from across town to tell them it's handled:
That's how it's done now with
Gratafy
, a new app that lets you gift drinks and dumplings to maintain your status as a good friend even when you just made a date happen with a barista so you can't hang out after all—it just launched in San Francisco today.
It's easy. Get the app. Browse around. Find the place your friends are going. The place you're... supposed to be. Select the offering you would've ordered for everybody. Order it. They'll get a text and they can redeem it on the spot. Next time, you need to show up. But tonight, you're good.
And if you're worried this thing isn't actually partnered with good places offering good things, don't be. You can get everybody sangria at Coqueta. Da Burger at Stones Throw. Beers at the Monk's Kettle. Shanghai dumplings from Yank Sing.
Not the first time dumplings have saved a friendship.