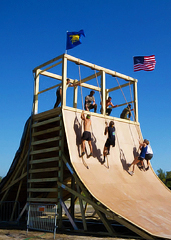 Big race coming up. We hear it's at a horse park.
It's weird, though, because we also hear there won't be any horses on the track...
Just helicopters, paintball guns and the general trappings of a military base.
Ah, right. Must be the
BattleFrog Obstacle Race
, a new 15K at the Georgia International Horse Park that was designed by Navy SEALs (if you're thinking freezing water, guns and Tarzan rope swinging... good thinking), taking registrations now for May 31 and June 1.
Here's what happened: a bunch of Navy SEALs got together and decided you should be put through a scaled-down version of their actual training. So, 25 obstacles like carrying 50-pound military gas cans and maneuvering around hedgehog jacks like the ones found in Normandy.
But first, an elaborate demonstration where SEALs rappel out of a helicopter and engage an enemy amidst gunfire and other chaos. And when that's over, just start running until you hit something.
Maybe that something's a shipping container full of ice water. Or a double-sided half-pipe wave wall. Possibly a 20-foot-long culvert pipe that you have to crawl through.
Nothing a cold beer and a DJ can't take care of at the finish line, though.
Pain-dancing is the greatest.