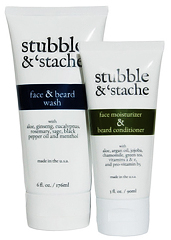 Quick, word association: the US Marines.
Okay, go.
Time's up. Not sure about you, but we came up with "jojoba," "eucalyptus" and "green tea leaf extract."
Probably because we heard about this.
Prep your whiskers for
Stubble & 'Stache
, a new, local line of face stuff from a former marine, now available online and at the Gentlemen's Quarters in Alexandria. And here's what it'll do...
Knock out your beard itch.
That's where this whole thing started
—
a special ops warrior sitting down with cosmetics people (savor the image) to try to end the scourge of beard itch. What they came up with: a non-greasy moisturizer/beard conditioner and a face-and-beard wash loaded with a veritable herb garden of good-smelling extracts and such.
Preserve your face.
If you're not currently sporting some Clooney shadow or the full Galifianakis, that's okay. Both products are designed to work on bare skin, too, with some antiaging/antioxidant ingredients to boot. We hear women are even using it.
Help some wounded vets.
The company was started in tribute to a bearded marine who was killed in Afghanistan, and some profits go to ex-military and their families.
Just the excuse you were looking for to go all ZZ Top.