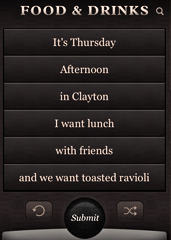 Something big is afoot in St. Louis.
It's more monumental than the Arch.
More crowd-pleasing than Yadier Molina.
And it's... really quite good at finding toasted ravioli.
It's
The Next Move St. Louis
, the latest incarnation of UrbanDaddy's free, award-winning app, now available to assist with your every eating, drinking and general-merrymaking endeavor about town.
Next time you're unsure of where to steer your night, just tell this app where you are (say, Clayton), who you're with (say, friends or colleagues) and what you want—anything from drinks in a brewery to frozen custard near a park is fair game. We've even divided the local pizza population between those using Provel cheese and those committing pizzalogical blasphemy (in the best ways possible, of course).
After a bit of digital gymnastics, the app will answer your requests with a list of nearby places fitting your pressing leisurely needs, along with pictures, directions and even a built-in OpenTable reservation-making option. At which point, all you've got to do is get yourself there.
Although there's probably an app for that, too.