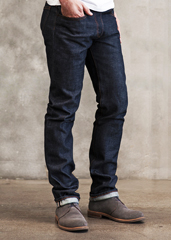 Well, your pants are outside.
Something might seem sort of wrong there, but really it's good news.
The Internet, you see, is delivering magnificent new jeans to your front door...
Step a leg into
RPMWest
, an all-Japanese selvage denim startup offering limited-edition jeans on Kickstarter so your lower half can look better than other people's lower halves, now available for preorder.
What's happening here is selvage denim, the same denim used by A.P.C., cut and built in California before showing up at your front door and demanding to be let in.
You've got choices. Five choices. Black, gray and three shades of blue. Then two more choices—a fit that's more traditional (that's the New Classic) or one that's more lean (that's the Slim Straight). They'll also do the hemming if you like.
So once you've Frankensteined your perfect jeans together (they'll ship in early July), you can step out to dinner with your favorite linen blazer and know that the date will go well. At least in terms of, like, denim-ness. And there is only an extremely limited amount made per fabric, so you won't have to worry about sitting down next to an inadvertent twin. You'll look totally unique.
Well, you're both wearing jeans.