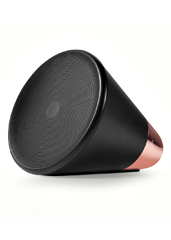 So a former Google employee, a former Nokia employee and a former Apple employee walk into a bar...
And out comes this speaker they created.
Hum along with
Cone
, a wireless speaker with an impressive pedigree that's probably too smart for its own good, available for preorder now for June delivery.
A home audio device with basically no buttons that streams songs from the Internet while learning your musical tastes in real time via a proprietary algorithm might sound complicated. And it probably was for the engineers who made it—but not for you. Observe...
To play music:
Tap its center, and you'll hear a random song. To continue listening to similar songs, do nothing. You can handle doing nothing.
To hear something new:
Rotate the speaker's face like a radio knob. Stop when you find an appropriate tune. Or anything Neil Diamond.
To play "Free Bird":
Say "Play 'Free Bird'" (or a song that's not "Free Bird") into the speaker. Helps to enunciate.
To teach it your tastes:
Just act normal. Over time, it'll tailor music to your listening habits—it'll even remember if you're the type of person who always cranks up the volume for the chorus on "More Than a Feeling."
Aka an American.