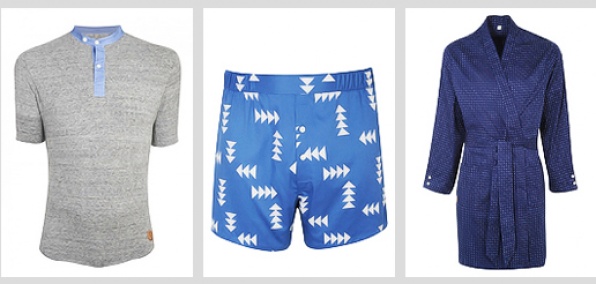 Who you sleep with is nobody's business.

What you sleep in, however... well, let's put it this way: a great deal of the EU economy has a vested interest in your jammy jams.

So prepare to get cozy with Under, a new British-based, Dutch-designed, Portuguese-made underwear-and-pajama label with strong ideas about your long johns.

As you know, this cold-weather siege continues to make long johns an unfortunately necessary part of your current wardrobe rotation. But on this website, you'll find good options for new ones, along with everything from simple briefs and bathrobes to—in sort of a Paul-Bunyan-does-Wall-Street moment—the sharpest gray-flannel-looking onesies you've seen in a while.

In other words, they're basic, but not boring. They don't skimp on little details. You'll find the label made of cork carefully sewn on the outside of the T-shirts. You'll find corozo-nut buttons—the best damn button a palm tree can make—securing the fly of your gray cotton boxer briefs.

Also: this stuff is perfect if you anticipate finding yourself in full public view wearing nothing but your skivvies. Maybe you're doing one of those underwear runs. Maybe you're doing the Polar Plunge with Jimmy Fallon. Maybe you're...

... actually, we don't want to guess. Surprise us.