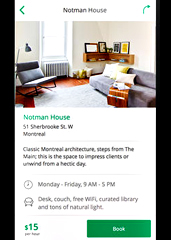 Lust is impatient.
It's needy.
It's desperate.
It's... pretty spectacular, actually, a lot of the time.
And now there's an app to let it run its course.
Behold
Breather
, which allows you to rent nice, respectable, privately owned rooms around the city... by the hour. It's available now online and for iPhone. There are things you need to know about this, and these are they...
They offer three spaces right now.

One in Flatiron, one near Penn Station and one in SoHo. All made to look like apartments, and all with plenty of natural light and limitless privacy.
They've got couches, chairs, large desks and wi-fi.

You know, like an apartment. These are apparently for when you need to write the Great American Novel, but only have an hour.
It's pretty damn easy.

You pick one of the spaces and book a time. Once you're there, you'll check in with a doorman who'll point you to the space. Then just fire up the app again and tap the "unlock" button. You'll be given a code to open the door.
The FAQ on the app's site has the following exchange:

"Q:
What about... how do we say this... ahem, questionable activities?
A: Get your minds out of the gutters! This isn't that kind of place."
Just adorable how they think that.