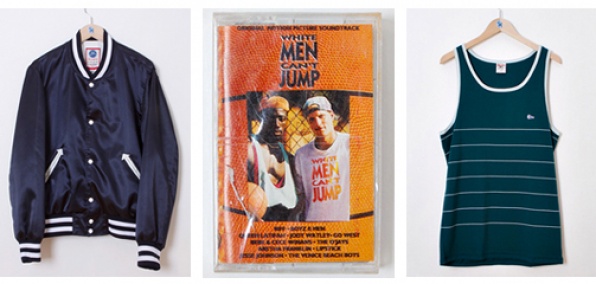 No baseball. No football. No Olympic curling.

What's a sports fan to do right now...

Buy an old cassette copy of the White Men Can't Jump soundtrack, that's what.

Shag some fly balls for S&H Athletics, a haven of vintage-inspired sportswear and beyond from the Shipley & Halmos guys, online right now.

Basically, what Mr. Shipley and Mr. Halmos did for everyday wearables and... well, random quirky stuff, they're now doing for fleece shorts and three-quarter-length baseball tees. Namely, making high-quality versions of those things and putting them online beside an original Starting Lineup figure and the '89 Sports Illustrated Swimsuit Issue. (Yes, the one with Kathy Ireland on the cover.)

Now, if you're planning to...

... jog in the near future: grab that striped cotton tank named for Carl Lewis. Also, water.

... coach the Mets farm team: then the leather-trimmed polyester-blend team jacket is a must. Looks like the one you wore in Little League. Remarkably so.

... play golf (or something resembling "golf"): you'll want their cotton piqué polo with the pennant on the chest. Because, sports.

... lounge on your sofa in tailored sweatpants: get the tailored sweatpants. And probably the old handheld Jordan vs. Bird video game.

Just remember to stretch first.