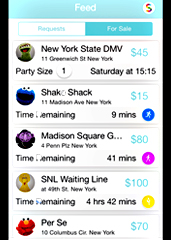 Whoa, did you just feel that?
That was the reservations game completely changing.
It was subtle.
Say hello to
Shout
, a new iPhone app that lets you score someone else's impossible restaurant reservations and pay other people to wait in line for you—it's available now.
If you've ever found yourself
not
knowing where to eat 30 days from now, or
not
wanting to brave the Shake Shack line or linger around Mission Cantina for two hours until a table opens... great. It's your lucky day.
Start with all the usual sign-up business—they're keeping it intimate for now, but the code "urbandaddy" will get you access. Then you'll see a feed with available reservations and line-waiting volunteers, with fixed times and costs for each.
Once you find something to your liking, you'll start private-chatting with the seller to work out details. They'll either give you the name of their reservation or keep you updated on exactly when you can breeze in and be seated. (You can also sell your own reservations in a pinch.)
If the feed's not doing it for you, you'll create a request. Which means, yes, someone out there could time their wait so you can have that table for two at 8pm tonight at Mission Cantina—for the right price.
The things you'll do for tacos.
Note:
<a href="http://www.shoutinline.com" target="_blank">Shout</a>, available now for <a href= "https://itunes.apple.com/us/app/shout/id776175583?mt=8" target="_blank">iPhone</a>, use code "urbandaddy" for access