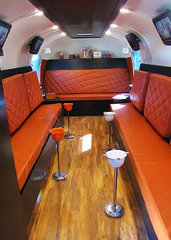 "Sometimes a cigar lounge in an Airstream is just a cigar lounge in an Airstream."
—Sigmund Freud, after he saw this thing
It's
Sevillas Cigars
, and it's a rentable mobile cigar lounge in a 1975 Airstream Excella, booking now.
If someone put a cigar lounge in the Mystery Machine from
Scooby-Doo
for some reason (we'll blame Shaggy), it'd look something like this. On the outside: an ordinary Airstream. On the inside: everything you need for a good smoke. Flat-screens: yes. Leather seating: naturally. iPads: ... why not. And, of course, a humidor stocked with up to 3,000 cigars (Nicaraguans, Hondurans, etc.). Plus an air-filtration system so you can actually smoke
in
the camper.
It holds about 20 people, but if you have more than that, they'll set up some covered outdoor seating. Just give 'em a call, and tell 'em when/why you need it and whether you want, say, custom-rolled cigars. (Hint: you do.) We're thinking March Madness watch parties, family gatherings, hell, even a midday office meeting. After all, studies show that one long smoke break is more productive than numerous mini ones.
Okay, not really.