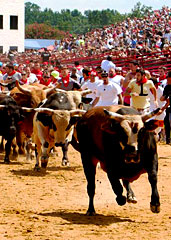 Great red wines. Historic scenery. Grown men running with angry bulls.
You're either in Spain... or Temecula.
Yes, this is apparently happening—
The Great Bull Run
, pitting mortal fallacy against 1,500-pound bovines, is taking registrations now for June 21 in Temecula.
Here it is: your Hemingway moment. First, you'll register. You'll sign a waiver. Then you'll... probably have some extra motivation to hit the treadmill for a few weeks. And then: June 21. The day on which six rounds of bull running will be held at a place for horse shows called Galway Downs. There'll be a run every half hour starting at 11am. It's all real.
So when you're up, you'll meet the 499 others in your round. You'll pause to collectively question your choices. And then you'll run a straight quarter mile of dirt... in the opposite direction of the bolting, bucking horned beasts coming at you.
Or if you just want to watch others do this while you have a beer and ponder the state of humanity at large, hit the bleachers. Drink some beer. Listen to some music. Bob your head. Jump into the 5,000-person tomato fight.
You're going to get some weird looks driving home.