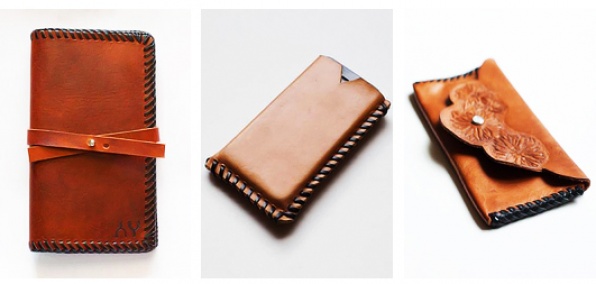 If you could appoint your own personal team of leather advisors, the roster would probably look something like:

—John Wayne.
—The Hells Angels.
—The gimp from Pulp Fiction.
—Kaylinn Gilstrap.

Oh, right. You don't know Kaylinn Gilstrap yet...

Well, meet Kaylinn Gilstrap. She's the girl behind Spur Up Spur Down Leather, and she turns cowhides into better-looking things like iPhone cases, hand-tooled belts and custom whatever-you-wants, available now at Oakleaf & Acorn.

Before she decided to make nice items for you, Kaylinn grew up on a cattle ranch in Colorado and started working with leather around age 12. Then, after she moved to Atlanta and inherited her uncle's leatherworking tools, she picked it back up again. You were hoping she might.

The magnificent fruits of that labor: cases for your iStuff. A beaded clutch that's about to make some valentine very happy. A dyed belt with crazy designs carved into it (including two inverted spurs that were inspired by her father's cattle brand).

And if you want her to custom-make something for you, just shoot her a Facebook message and state your demands.

Asking politely works, too.