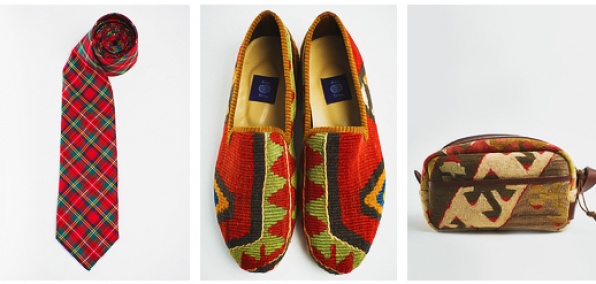 "Oh, this tie? It was designed after the personal tartan of Queen Elizabeth II."

"Of course this bag was used in the military."

"In a previous life, my shoes were a carpet."

—You

At least after you go a few rounds with Res Ipsa, a new site from a pair of local lawyers stacked with casual woven ties, casual dopp kits and casual loafers made from Turkish rugs, online now.

About that name. It's just lawyer speak, really. Short for res ipsa loquitur—an 1863 ruling that means "the thing speaks for itself." It's the kind of statement you can only make when you're, say, using materials from an Italian mill that also provides fabric for the pope's robes.

And you could use a new tie for Valentine's night anyway. So grab a red silk tartan one. Maybe some post-dinner lounging loafers with crazy designs all over them that were inspired by the guys' trip to Istanbul.

Or hey, if you'd rather see some of their stuff in person, go to Atlanta Made on Howell Mill. You'll find a few vintage totes made from WWII-era military bags there.

It's no pope's robe, but it'll do.