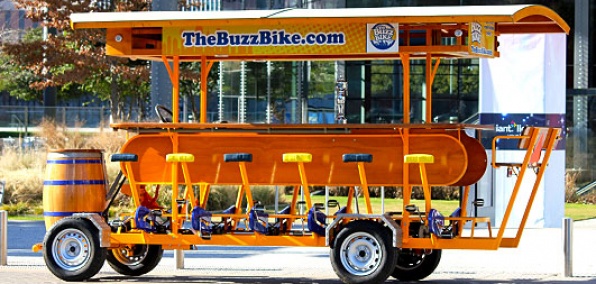 With all the stern glances and muffled grumblings lately, it's almost like they don't want you drinking beers in spin class...

Absurd, we know.

But it may be worth looking into alternatives.

Like this: The Buzz Bike, an open-air bar on wheels that you and 15 friends will pedal all over town, booking rides now.

It's not your typical bike, that's for sure. Because this thing's traded handlebars and uncomfortable seats for a three-sided bar top with room for 16. Throw in 10 sets of pedals and a couple extra tires, and you've got a mobile drinking unit fit for commuting across town. Legally.

Now, about the drinking part. You'll be supplying your own beers, so come armed with a couple coolers and enough canned beverages to keep you and your friends hydrated. Then just delegate a bartender and someone to man the steering wheel, start pedaling, and away you go. (Nothing could go wrong.)

They're currently booking rides through Uptown, Downtown and the Arts District, so you'll have plenty to see as you hop between bars, host a mobile Super Bowl party or take the scenic route to work.

Spandex shorts are optional.