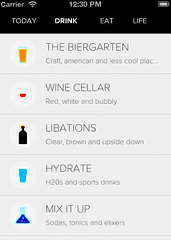 You know, technically speaking, this isn't another polar vortex.
This is simply what meteorologists call really friggin' cold. But enough with their mumbo jumbo.
The point is: if you want to stay in tonight drinking whiskey by the fire but discover you don't have any whiskey, don't panic. Or leave the house. These people will bring whiskey to your location.
Meet
Foxtrot
, an app that delivers everything from liquor to condoms (yes, condoms) to your door within an hour, available now for iPhone.
This Chicago-based startup is working with Plum Market, the Old Town specialty grocer, by offering a curated assortment of products, conveniently broken down into categories like game-day essentials (tortilla chips, beer) to New Year's resolution helpers (yoga mats, kale chips).
So you'll log in to their app, put in your essential details and credit card info. Suddenly, you have a new friend who will run to the store and pick up a chipotle turkey sandwich and some sparkling water when you're feeling lazy. And if you want sparkling wine instead of sparkling water, they won't judge.
Speaking of new friends—and again, no judgment—if you're having an unexpected overnight guest, remember delivery stops at 10pm.
You can never have too many extra toothbrushes.