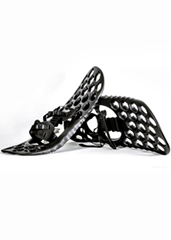 Santa wishes he had these...
Walk this way for
Fimbulvetr
, a pair of snowshoes from Norway that are about to revolutionize the snowshoe game (yes, there's a snowshoe game), available now.
Consider these the Air Jordans of snowshoes. They're made of an ultra-lightweight, indestructible material called thermoplastic elastomer (commonly found in car engines). They're the first to use an all-direction hinge for the binding. They're designed with a double curve honeycomb sole. And they're 100% recyclable. So, yes, you can run in the snow in them. Also, you can 100% recycle them.
Obviously, you'll call upon these in any and all typical snowshoe situations. Like when you're climbing Mount Everest (see "2014 resolutions"). Or accessing a particularly remote chalet hot tub. And since they're also fully capable of working on sand, maybe keep a pair handy for your next beach vacation.
On second thought, don't. It'll look ridiculous.