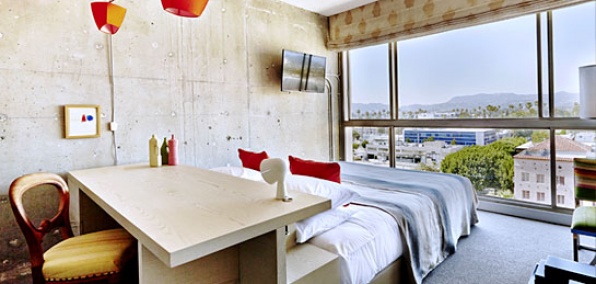 It will all be over soon.

That was meant in a comforting, holiday-madness-will-cease way. Not a nutty, the-end-of-everything-is-nigh way.

Anyway, you'll need a bed. You'll need good coffee. And goddammit, Roy Choi had better be nearby to feed you something outrageous.

Prepare to reboot at The Line Hotel, a K-Town boutique from the minds behind NYC's Ace and Nomad—it's taking reservations now for its January 1 soft-opening. Here are three ways you'll use it:

For holing up and ignoring life.
Get a room at Chateau Marmont and, scene-wise, you're practically back at work when you step into the lobby. Get a room here and it's more laid-back, with raw concrete walls and impressive floor-to-ceiling views of the hills from bed. Plus: Korean chips in the minibar.

For lobby loitering.
You could lose a whole day downstairs, tinkering with your novel about an indie screenwriter, drinking Lamill coffee and then something spiked from Choi's circular POT Lobby Bar (hoping to open January 1-ish, too), and buying Baxter hair stuff from Poketo. Full day.

For staking out future tenants.
Soon, you'll grill tableside at Choi's POT (think: food in hot pots). Soon, you'll be taking a vegetarian to Commissary, another one of his places here. Soon, you'll be figuring out the secret entrance to the Houston brothers' next place, Speek.

That's like all your resolutions right there.