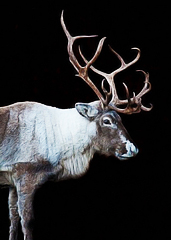 Rudolph the red-nosed reindeer
Had a very shiny nose
And if you ever saw it
You would even say...
Actually, we don't know what you'd say. We've never seen you see a reindeer. So after one shows up on your lawn soon, let us know what you say so we can finish our song.
In the meantime, you'll need a little help from
Georgia Reindeer
, a West Georgia team that's in the business of renting out live, honest-to-God reindeer for whatever reasons you'd currently want to borrow such an animal, taking last-minute reservations now.
Think of this like a petting zoo delivery service. Only they just have one kind of animal to pet: the real-life versions of Dasher and Dancer and Prancer and Vixen.
Now, these beasts are obviously in high demand this time of year. So call the owners up immediately, describe what you're thinking and they'll take care of the rest.
If you're trying to put some unexpected topspin on the office holiday party, go the classic route (four reindeer, a red sleigh and Santa). If it's to add the final touch to your "North Pole meets North Georgia Mountains" get-together this weekend, just let them wander around and pose for pictures.
And: you just rented reindeer.