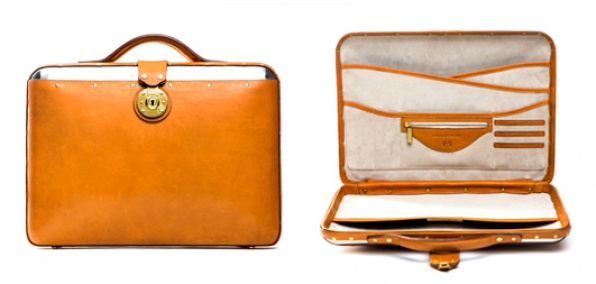 If Tarantino ever makes a sequel to Pulp Fiction...

We've got a pretty good idea who plays the briefcase.

Stack up some unmarked bills for Passavant and Lee, a site by a couple of guys who just spent a couple of years engineering the perfect briefcase, online now.

If Steve McQueen went to work for Don Draper... well, that would make a hell of a TV show. Also, this is the briefcase he'd probably take to the office.

Its leather: sweet, supple Horween. Its lock: forged by the oldest foundry in England. Its aluminum shell: made in a California airplane factory, then put through a complicated artificial aging process that hardens the metal and gives it the feel of a material that's been around for over a half century. So, yeah, it's basically the Benjamin Button of briefcases.

To pick one up, head to their website and select a color—matte black or cedar. Both come with a suede-lined and silk-trimmed interior that has ample space for documents, a laptop, business cards, pens...

Or just one really massive pastrami Reuben.