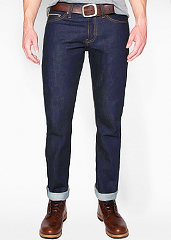 Well, it's that time of year again.
The time when people start making bad jokes about turkey and waistlines—needing pants with elastic waistbands, extra notches on belts, all that.
It's also the time when you, in a bold feat of righteous optimism, go shopping for the eternally perfect-fitting pair of jeans.
Step continuously into
Copin Denim
, a limited new collection of fine, fine jeans that are cut and sewn right here in a SoMa warehouse, available now at Seedstore and online.
With everything going on in your life in the next couple months, the last thing you want to think about is jeans. So here. Think about jeans for a second. Then forget about them forever. Because these guys are making it real easy for you. They've got three styles—slim, straight and modern-straight—all made with selvage denim from Cone's White Oak plant in North Carolina. (That means: good denim.)
Right. So: wear them to rooftop barbecues. Wear them to Hayes Valley beer gardens. Wear them to buy a turkey. Wear them anywhere that doesn't require a suit or reindeer onesie, basically.
We're just going to move right past the reindeer-onesie thing.
Don't even want to know.