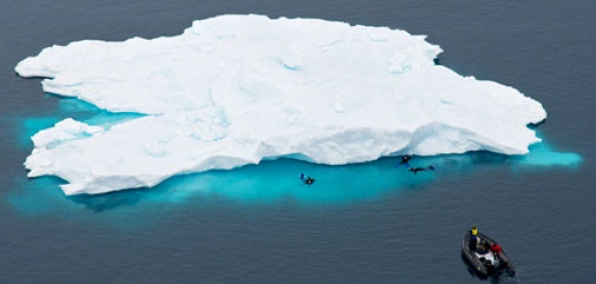 Getting cold out there.

Only one thing to do: head south.

That's ice.

And that's Snorkeling in Antarctica, the first organized snorkeling tours of Antarctica's sheltered bays, offshore islands and secluded shipwrecks, taking reservations now for February.

You don't need an advanced scuba certification to do this. Or any diving experience, really. You'll just kind of... wing it. Watch and learn from the whales and whatnot. Improvisation is key here. Oh, and so are expert guides. So you'll have some of those, too.
Start by hopping on the 54-passenger jet at the port of Ushuaia, Argentina. It'll take you to the Antarctic Convergence, where the South Pole's icy waters begin. You'll land. You'll suit up. Then, you'll probably get jostled around by some smug-looking seals. Forgive them. They don't know who you are.
From there... well, more snorkeling. Every day. Navigating around ancient shipwrecks and penguin colonies along the way. For the grand finale, your vessel will take a ceremonial loop around Cape Horn through the most shipwreck-prone waters in the world.
We're sure it's perfectly safe.