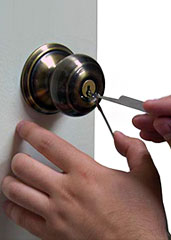 A quick look at today's to-do list:
[  ] Pick up milk.
[  ] Get new suit tailored.
[  ] Make the necessary arrangements to transform yourself into an elite one-man army.
Prepare for some sort of hypothetical catastrophe with
OnPoint Tactical's Urban Escape and Evasion
, a three-day workshop that'll teach you how to survive a real-life
Red Dawn
scenario, taking enrollments now for their November sessions.
Let's say the city goes to hell. The Russians. Aliens. Whatever. You're going to need to know what to do. This class (it's run by some guys who've trained the Navy SEALs) will show you.
So you'll sign up. Then you'll be shipped off to a secret, undisclosed location (okay, it's an LAX hotel conference room) where you'll spend the next few days learning valuable survival skills like lock picking, self-defense, covert movements and how to properly put on a fake mustache. Pay attention, because there's going to be a test.
And that test: well, it's basically a simulated abduction where you'll be blindfolded, handcuffed and tossed in the back of a van. It'll be your job to escape.
And then probably get yourself some therapy.