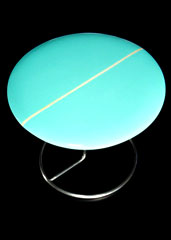 There are times when having a well-made surfboard comes in handy.
Surviving Malibu's beach breaks.
Tackling the swells in Palos Verdes.
Sitting around your living room, drinking a gin and tonic.
Get your toes on the nose of an
O Table
, a salvaged Hawaiian surfboard that's found new life as an end table in your living room, available online now.
If you're getting a little down about summer's end and just want to make your apartment a little more like
Point Break
(the fun-beachy-house-party part, not the robbery-and-death part)... here you go. Surfboard tables.
They're built by a California-native architect now living in Kauai who rescues landfill-destined boards smashed on the island's north shore and shapes them into colorful circles of glossy fiberglass on stainless-steel stands... all so you can have a way-LA table that gets noticed by houseguests. Also one that holds up drinks and books and stuff.
Oh, and if you're more in the market for a surfboard-shaped surfboard table, go for the full-size cocktail table, coated in carbon fiber and just about the length of your couch. It's not cheap.
But if you want the ultimate table, you've got to be willing to pay the ultimate price.