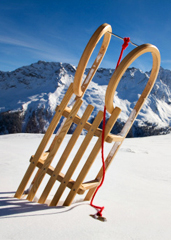 Walking up the mountain.
That's by far the worst part of sledding.
By far.
You know what would help with that part: helicopters.
Warm the engines for
Heli-Tobogganing
, where you reach near-impossible toboggan runs in Whistler's backcountry with some help from your own personal chopper, taking reservations now for as soon as you can swing it.
Yes, this is the only place in the world where you can heli-toboggan. And yes, apparently, they'll use helicopters for anything these days.
Anyway, here's how to make this happen: find a long weekend when you can get out to Whistler with a few friends. Hustle over to the heliport. We assume there'll be a pilot holding a little sign with your name or something. Get in his bird. Go up. When you reach a nice steep stretch of mountain, hop out and slide down. Rinse and repeat.
Until you get hungry. At which point you'll stop for some wine and a catered lunch. Maybe at the top of a scenic peak. Maybe inside the same private snow cave where Seal proposed to Heidi Klum.
That's so Seal.