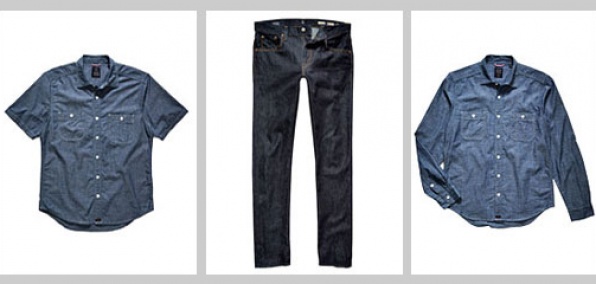 The perfect pair of jeans.

They're always in the last place you look.

Like, say, your mailbox.

Eschew your nudist ways for Bluer Denim, an online emporium that's sending you rugged American-made jeans, rakish chambray shirts and other sartorial staples for fall, available now.

America: fine place. And clothes: really solid, all-around body covers. Put them together and you get this heritage-y shop. The kind of heritage-y shop where cotton's sourced from Georgia and denim's milled in North Carolina. Two states that appreciate walking around in handmade selvage things. As the old adage goes.

So let's say (hope) autumn is right around the corner. In that case, you'll need some slim-but-not-too-slim jeans for wearing pretty much anywhere. And a button-down work shirt for jumping into leaf piles. (Or maybe just going to a bar.) For all that: these are your guys.

And starting this fall, they'll send you three pairs of jeans at a time so you can try on different cuts and washes. Keep what you like, send back what you don't. No charge. Just a bunch of nicely fitting jeans.

Packed in their jean-shaped envelopes.