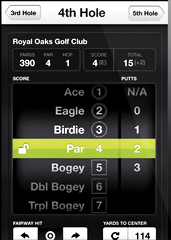 Hey, welcome back.
Now that you've gotten all that leisure out of your system, it's time to focus on some serious business.
And by serious business, we mean golf.
Because that's what we do. We make you think we're going to talk about business and then we talk about golf...
Put on your finest plaid pants for
Foursum Golf
, a new app that's essentially a do-it-all wunderkind for your every golfing endeavor, available now for iPhone.
What this app won't do: make you better at golf. Which is good. There're about 2,538 other apps for that. This is for... everything else. Finding courses. Tracking your scores. Tracking friends' scores. You know, basically all the stuff you'd rather not handle while in the middle of shooting the round of your life.
So say you're trying to book a tee time (this thing has over 26,000 courses in it): use this app. Or you're carting toward the 14th green and need caddie advice: use this app. Or you want to know what ratio of iced tea to lemonade you should put in your Arnold Palmer: yeah, don't use this app for that.
But it's two parts iced tea, one part lemonade.