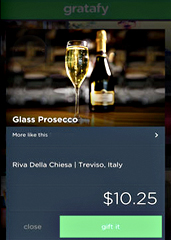 Everybody walks into a bar, ready for a great time. Two rules.
1) The word "Cyrus" is blacklisted. 2) First round's on you, obviously.
The twist: you're not even there yet...
Reclaim your title as friend of the year with
Gratafy
, an app that will buy everybody a drink from across the world—or just across the 101—available now in LA.
It's easy: after downloading it, you'll be directed to Facebook. Pick somebody you're supposed to meet, somebody who's celebrating a birthday or a pilot commitment from NBC. (Six words: Dustin Diamond. Alfonso Ribeiro. Bachelor roommates.)
Then just select the appropriate neighborhood in the app, and you'll see a bunch of specific things you can buy for friends at great places in that area. Like a dozen oysters at the Churchill. Caipirinhas at Paiche. A glass of wine at Sotto. A tequila-and-beer combo at Las Perlas. Good stuff.
Then hold your credit card up to your phone, and the app snaps a picture. Presto. You've paid. Your friends' phones get texts letting them know the next one's on you. They can redeem immediately or the next time they come by. Whenever. It's handled. Basically, this is the next best thing to...
Actually showing up.