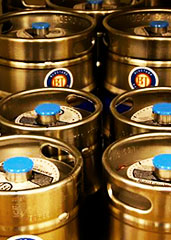 You know that Science Channel show,
How It's Made
...
This is that for beer.
Tap into
BlueTarp Brewing Co
., a gritty new part-brewery-and-part-tasting-room scenario where you get to see firsthand how your beer is made (and then get to taste firsthand how they taste), opening for tours Saturday in Decatur.
It's possible you've tried one of these drafts around town already. It's more possible that it didn't happen while surrounded by retrofitted kettles and talk of how the founder earned his IPA-making stripes during a Left Hand apprenticeship. See, you're learning things already.
3:30pm. Saturday. Pick up a fellow human being and get in there. Start in the production space with a semi-self-guided tour. Walk around. Drink an Irish-style ale. Peer into that big hand-welded mash tun. Say "Ooh." Maybe "Aah."
Then, when you're satisfied, move on to the tasting room a couple doors down (it was a VW shop for 30 years). Ask for the sour
Fünk Weisse
and bring it outside to the beer garden.
Well, when it exists, that is. For now, it's pretty much just an empty patio. But eventually it'll have picnic tables, planter boxes full of hops and presumably friendly elves singing about beer.
Such potential.