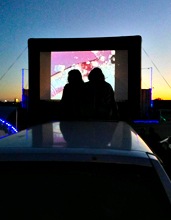 Okay, so you probably don't need any pointers on how to watch a movie. But just in case you're looking for something a bit... different, there's this:
Blue Starlite Mobile Mini Urban Drive-In
, a Wynwood outfit that'll set up a bona fide drive-in theater anywhere you want it, taking reservations now.
What follows: a few ways you can pull off the best damn movie night known to man.
Your Labor Day barbecue: now with more Iceman.

Nothing beats watching a kielbasa crisp up at a barbecue. A close second:
Top Gun
on a 22-foot screen. You'll: find the lot, the grill and the beer. They'll: set up the screen, the outdoor speakers and their projector (a retrofitted 1950s Chevy truck). Congratulations, you've won Labor Day.
Your office holiday karaoke party meets a swift end.

Here's the plan: block off the garage rooftop and book an evening of
Jingle All the Way
and concession snacks (they do that, too). The night of, pull into a prime parking spot, turn the dial to Blue Starlite's FM transmission and never listen to HR's rendition of "Summer Nights" again.
Your next date-night double feature.

Yup, reserve the whole thing for up to five hours. Just you and a special someone.
Named "nachos."