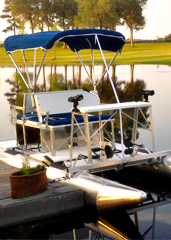 Maybe it's your birthday.
Maybe you just got a raise.
Maybe it's Monday and you're just kind of bored.
Either way, you're procuring a ridiculous but very necessary lake-faring vessel today...
Throw reason to the wind for
Aqua Cycle
, a tricked-out paddleboat that you can attach a motor to. And fish off of. And grill steaks on. And it's available now.
Chances are, you associate paddleboats with engagement photos and Nicholas Sparks movies. Well, no more. No damn more. Now it's time to associate them with fishing and drinking beer and grilling and general leisuring. Because that's what this one is for.
Take it out on the lake and get comfortable. Adjust the adjustable benches. Retract the retractable ladder. Head back to the rear deck and appreciate the fact that your paddleboat has a rear deck. You can even get an electric motor for the thing. Just call up the distributors in Peachtree City, choose your model and make it so.
Oh, and don't forget the accessories. A bimini top, perhaps. Maybe a few fishing pole holders.
Wow. You just decked out a paddleboat.