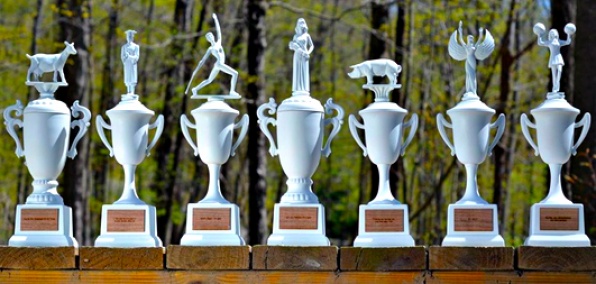 Tonight at Citi Field, they'll give a trophy to the guy who hits the most home runs off a 60-year-old pitching coach.

Tomorrow, they'll give one to a team that wins a game that barely even counts.

So what you've got to be asking yourself about now is: where's your trophy?

Glad you asked...

Check out Trophy Buffet, a local outfit making trophies for some of life's more unexpected award-worthy occasions, available for preorder now.

Before we begin: yes, this is a Kickstarter. But it just crossed its funding threshold yesterday, and they expect to start shipping today's orders in September. Oh, and it's all being done by a former ad man who's been making these things for his wife for years. (So if Mad Men ends with Don making trophies... yeah.)

Essentially, these are gifts you'll give or receive in lieu of, say, a thank-you card or I'm-sorry jewelry. Just a few examples:

—A "Greatest of All Time" one with a goat on top.
—"I apologize for my future f**k-ups" with a pair of praying hands.
—"Thanks for loving me just the way I am"... with a pig.
—Or you could go the custom route, with both the message and what's on top.

Look out, Lord Stanley.