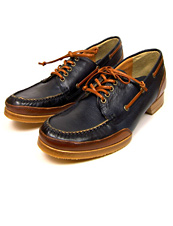 It's May Day. And that's as good an excuse as any to treat your feet to something new. Something
different
.
But not too different.
Presenting
Chausser
, an elegantly twisted Japanese shoe line, available now in the good ol' U.S. of A.
The brand is based in Tokyo, so it features all kinds of shapes and designs you might not have seen before. But those twists are subtly executed, so a pair of boat shoes, for instance, is outfitted with loafer heels. (Warning: arch support may lead to unexpected results—like people calling you Skipper.)
The rest of the line is almost criminally versatile—sneakers so polished you could wear them to the office, dress shoes so comfortable you could wear them on the weekend. The kicks don't just look sharp, either—they're handmade in Japan from Italian materials (think cowhide, Vibram soles), so they'll last you through Obama's next 1000 days and then some, picking up a handsome patina along the way. Just be careful when ordering—the shoes tend to run a size small.
Still more proof that you're big in Japan.