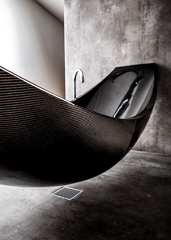 Nice long weekend coming up.
Great time to take it easy. Nap in a hammock. Maybe soak in the tub.
Or just cut out the middleman and take a nap-soak in a hammock-tub.
Which is now possible thanks to the
Vessel
, a fully customizable (and totally necessary) new bathtub conveniently shaped like a bleepin' hammock, available now.
Obviously, this has huge ramifications for the way you sleep/bathe/stage miniature naval battles. The details:
You can put it anywhere.
Pick your ideal location—back porch, front porch, your office, doesn't matter—and measure appropriately. (Remember: measure twice, cut once.)
You can't destroy it.
It's made from carbon fiber, so it's pretty much indestructible. Though if you need an indestructible tub, you might want to reconsider your bathing habits.
That carbon fiber stuff: keeps the water hotter longer, too.
So that's good.
We see you using this a few different ways.
Relaxing. Pointing to it and saying, "Hey, that's my hammock-tub." Filming Cialis commercials. Hopping in with a partner or two to use it in ways the designer presumably didn't intend.
Okay, so they probably did intend.