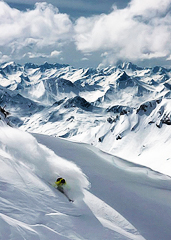 Sipping malbec on an Argentine horse.
That's something you're about to do.
But not before spending a week tearing down slopes in the shadow of a ski goddess.
Manifest your destiny for
Las Leñas
Ride with a Pro
, a 10-day odyssey where you'll conquer Argentina's most majestic slopes with a freeski world champion, incongruously followed by a horseback tour of wine country, taking reservations now for August.
And here's how this'll all pan out for you...
You'll freeski with a crazy blonde.

Elyse Saugstad. She's the pro skier who'll be upping your off-trail game by escorting you to 200,000 acres of backcountry terrain. She's also a survivor of one of history's worst avalanches, so... pay attention.
Then you'll ride a horse and drink wine.

Because eventually, you'll need rest. That's where the horse comes in. It'll be your four-legged shuttle between the vineyards tucked away just a few miles from the mountain. Pro tip: horses hate when you spill malbec on them.
And you'll be filmed the whole time.

The epic ski-and-horseback movie. It's a new film genre. Starring you. Because turns out, all the laughter, tears and whinnies of your trip will be compiled on a DVD by a professional video team.
They'll even include English subtitles.