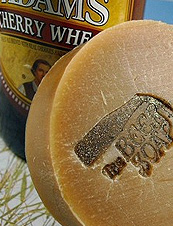 Never underestimate the versatility and awesome power of a well-brewed beer.  
You've used it to fortify steaks, polish your impeccable wit and inspire astonishing feats of social daring.
But you never dared to dream of bringing it into the shower…
Introducing
The Beer Soap Company
, a troupe of loyal artisans refining your favorite brews into bars of soap, available now.  
In other words, your love for Blue Moon is no longer limited to internal consumption. The folks at Beer Soap have figured out a way to turn your favorite hops into shower-ready cleanser, with the help of a little Shea butter, some sunflower oil and enough cleaning agents to turn your favorite relaxant into something downright stimulating.
Of course, carrying the faint aura of Red Stripe should make you immeasurably more popular on your next Jamaican beach jaunt, and we imagine the Killian's won't hurt next time St. Patrick's Day rolls around. At the moment, they've got more than 20 varieties on their site, and they're planning to have over a hundred by July—when apparently the market for hop-related hygiene products should really take off. But they should have more than enough for you to peruse in the meantime…
Sadly, the mouthwash is still in development.