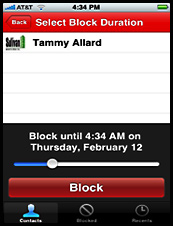 Not to sound ungrateful, but we're not totally sold on this cell phone business.
On one hand, a single handheld device now allows you to contact anyone you know at any time, watch the Sweet Sixteen from the back of a cab and navigate the city's most serpentine alleyways without a second look. On the other hand, it doesn't seem to mix very well with tequila…
Luckily, that's nothing a little technology can't handle.
Introducing the
Bad Decision Blocker
, an iPhone app that might just end the drunk dial once and for all.
Whoever your particular target of choice is, we're guessing you know going into the evening exactly which numbers you shouldn't be calling—but that forbidden fruit seems so much sweeter after a few drinks.
So before you head out for the night, plug the siren song's digits into Bad Decision Blocker and take a vow of silence. The number will temporarily disappear from your phone and the only regrettable late-night calls you'll make will involve East Village pizza.
We're guessing the eight hours until morning will be enough, but you can commit to up to a week of radio silence if you've got an itchy trigger finger. And when the time's up, just check back in with the app to load the quarantined digits back into your contacts.
Hopefully you'll be ready to face technology by then.