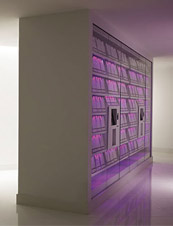 There are good inventions. And then there are great inventions.
Clearly, the vending machine belongs in the latter category.
But that doesn't mean it couldn't use a little enhancement once in a while…
Introducing the
Semi-Automatic
, your new three-dimensional matrix of luxury goodies, now dispensing at the Mondrian hotel.
Think of the Semi-Automatic as your standard break-room vending machine, if it were redesigned by Porsche. Or the prince of Jordan. Or somebody with really good design sensibilities, and the incredibly skewed feeling that, yes, people need to be able to buy a yacht trip or a condo or a Bentley, immediately.
Which means when you approach this sleek, purple-lit machine, you'll want to browse the grid, make a selection just like you were buying Cheetos ("A14"), swipe your credit card and watch your purchase drop down to the bottom, where you'll grab it through a door. (If you spring for the Bentley, you'll just get a voucher.)
In addition to the more ludicrous items for sale, you can pick up more practical/gift store-y buys like a Flip video camera, a pair of sunglasses or a toothbrush designed by Paul Smith (a steal at $21). You can even order up a T-shirt that says "F*ck the Recession."
Although doesn't the Semi-Automatic say that well enough already?