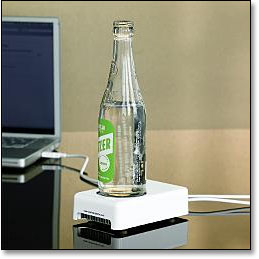 It's summertime.
And let's face it, summertime and work don't mix. There are just too many distractions—
World Cup games
, beaches, sundresses. If you're unfortunate enough to have a job that actually requires your presence in the office (damn the Man), at least try and make work a little more palatable: it's time to start boozing at your desk.
Now, we're not talking about a bottle of single malt scotch in your bottom drawer. That's so eighties. We're talking about ice cold beer courtesy of a new gadget: the
USB Beverage Chiller
. Here's how it works: plug it in to the USB port on your computer. That's it. Seconds later your computer age koozie will be ice cold and ready to keep your beverage of choice perfectly chilled all day long.
It's about time someone came along and made better use of that extra USB port. Because Monday through Friday in the summertime is all about survival. And everyone knows survival tastes better with a chilly 40 of Toll Free docked next to your Blackberry.