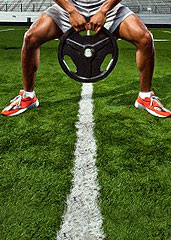 Working out at the gym.
Some do it to get in shape.
Some do it to meet people in yoga pants.
And some do it to try and make the Heat's playoff roster.
About that last one...
Limber up for
ProTerf
at Elite Athletes Performance, a multidisciplinary fitness program from the guy who trains most of the defending NBA champions, available now in South Miami.
The name you need to know: Ed Downs. He's trained LeBron, Bosh and Wade. Maybe you've heard of those guys. He's also received a Medal of Honor for working with the Navy SEALs and been inducted into the US Martial Arts Hall of Fame. He's basically a certified bad motherf**ker. Also, he'd like to be your personal trainer.
All you need to do is call him up and book a class (group or private). Each session is about an hour long and consists largely of the same stuff LeBron does to get ready for a game. Ladder drills for speed and agility. Jump squats for power. Jabs and punches for coordination/technical fouls.
Just be advised, depending on the day and time you're there, you might end up having to share your session with a pro athlete or two.
We hear Bosh makes a good spotter.