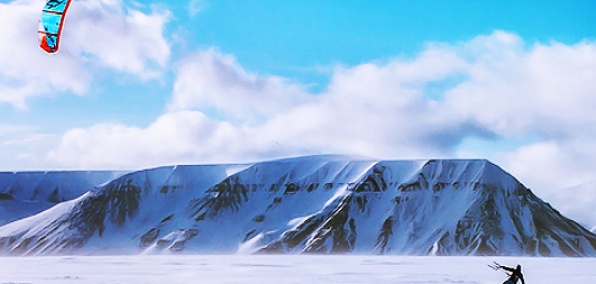 "Go fly a kite."

You've heard that saying.

"Go fly a kite that's dragging you behind it at breakneck speeds from one end of Norway's largest island to the other."

You probably haven't heard that saying.

But while we're on the subject...

Prepare for Spitsbergen Coast to Coast, a four-day snowkiting odyssey where you'll step into a pair of skis and get pulled through Arctic Norway by a giant inflatable kite, taking reservations now.

This level of stuntmanship: not necessarily for beginners. You'll need to have some basic skills. Like staying on your feet. And launching your own kite. And laughing at death. Plus, this expedition is BYO kite, so you'll actually need to own a kite (or know someone who knows someone who does).

Your journey begins on the island's western coast and doesn't end till you reach the eastern one. First, you'll meet your snowkiting sensei. He'll give you a quick briefing on arctic survival, and then you'll unfurl your kite and set it free.

Then... well, then it's four days of harnessing the wind's power to rip through the Norwegian hinterlands like you're some kind of person who just signed up for a coast-to-coast snowkiting trip.

Oh, and on the last day, you'll be following the eastern coastline and kiting through Mohnbukta on top of sea ice.

It's like the Ice Capades, only way more potentially fatal.