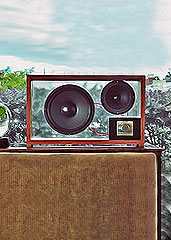 Two consecutive days of fine weather.
Amazing.
It's like you're in South America, lounging by the beach. Sipping umbrella drinks with a few barely clothed locals. Color Me Badd singing poetry in the background.
Okay, not exactly. But here's some handsome audio equipment from there to help complete the fantasy.
Meet
Houd
, a line of sleek speakers and iPod/iPad amplifiers made using sustainable wood from Colombia, available online now.
Think of this as what would happen if two Colombians with backgrounds in sound engineering, photography and product design got together for your auditory delight. Because they did.
The result: two styles of handmade speakers ensconced in wood native to their homeland. The floor speakers are great if you're looking for a clean design to complement the oddly seductive compositions of Philip Glass while courting a concert cellist from Symphony Hall at home (aka your date next week).
Or fast-forward two weeks to your first Saco River camping excursion together. Your early-'90s R&B Spotify playlist is cued up on your iPad. Once you slip it into their powerless amplifier, the dense Colombian wood ups the sound waves from your device's speaker and naturally produces a higher tonal quality.
Also important when YouTube-ing how to grill a fresh trout by a river.