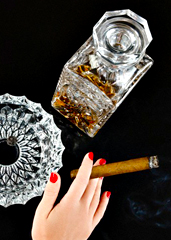 We were planning on saving this until the Heat won 34 in a row...
But, well, what the f**k, might as well light 'em up anyway.
Strike a match for
Wynwood Cigar Factory
, a cavernous warehouse that's churning out celebratory hand-rolled stogies and the occasional stiff drink, now open in—you guessed it—Wynwood.
What follows: a brief guide on when to grace this smoky Valhalla with your presence...
You need a cigar. You need a really good cigar.

Forget the neighborhood cigar shops with the wooden Indian out front. What you've got here is a 5,000-square-foot fortress with 10 expert cigar rollers, two experienced owners (they used to work for Camacho and Hotel Humidor) and a bunch of fresh Honduran tobacco. How you love fresh Honduran tobacco.
You're looking for some culture with your smoke.

Beautiful things. They're all over the place here. On the walls, rolling tables, chairs, cigar boxes. Basically, every inch of the place is covered in graffiti and murals. Some depicting sexy Latinas puffing on stogies. Others... depicting less interesting stuff.
It's Second Saturday. You seek a hideout. And a drink.

Say you're out in Wynwood and the urge to break from the outdoor art crowd hits. Duck in here. They're keeping the warehouse open late every Second Saturday and bringing in cocktails and tango dancers for the occasion.
So thoughtful of them.