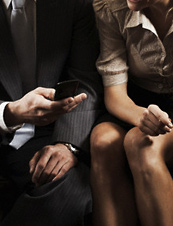 Weekend was good. Met a stunner at that party in the hills, and you really hit it off. Only one problem…
You can't understand a word she's saying.
Not to worry, since now there's
MeGlobe
, a new online service that helps you talk with whoever you want, even if you don't speak the same language.
The concept is simple—while the rest of the internet world is busy sending out updates to hundreds of online "friends" about traffic and how they feel about today being Monday (hint: not excited), you'll stick to your instant-messaging window, where you can start getting to know that statuesque Russian model from the party, or the shy Japanese actress from the coffeehouse, or the natural Brazilian beauty from the same coffeehouse (hey, it's a good spot). Because if you're signed in to the LA-based MeGlobe, your IMs will be translated automatically, in real time, and so will hers. (We could explain how, but we don't want to bore you with basic Advanced Inter-lingual IT.)
MeGlobe is just out of beta, so as they continue to refine their translation tools, it's a safe assumption you might find yourself amid a comedic misunderstanding or two.
But words like "bottle" and "wine" should be clear enough.