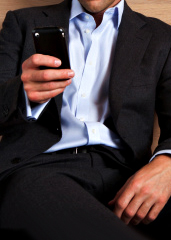 It's not easy maintaining your image in this town.
Today you scheduled all your Q2 drinks... from a yoga mat made of local kale... while brainstorming some new hashtags with your second assistant.
And if you're going to post a self pic online, it's obviously going to get some retouching first.
Cast your lens on
Beauty Box Photo
, a new iPhone app that's like a headshot agency's retouching department living in your phone, available now.
We're going to proceed a little carefully here—because, sure, you look great in that photo you just took of yourself. You don't look like you know you're taking your own photo, but you don't look overly fake-surprised, either. Well played.
But say your flash was a little harsh. Or a bug flew by the lens at an inopportune moment, and you look like you've got a blemish on your forehead that is definitely a bug and not a blemish.
All you have to do is use this thing—it's got 37 Instagram-ish filters designed specifically to fix whatever's going on with your face. So you end up with a retouched photo that looks great, but as if it just came out that way.
As opposed to you being the kind of person who retouches photos on their phone.