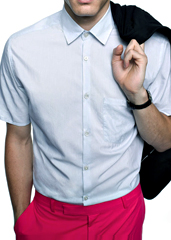 Tomorrow: the first official day of spring.
Meaning time is running out for you to do two important things:
1) Use "I'm really happy spring is almost here" in small talk.
2) Procure some impeccable new wearable things in time for spring.
Here to help with number two:
Jardine
, a new line of clean and sleek habiliments from a Rag & Bone cofounder, launching online today.
It's all from one man, Nathan Bogle. Maybe you know his ex, Natalie Portman. You definitely know his last project, Rag & Bone. But he knows something you don't: how to make a pair of cotton trousers so inspiring, you start referring to your pants as trousers.
The philosophy here: simplicity. White single-button suits Tom Wolfe would have mastered if he were a half-century younger. Black leather jackets that are just... black leather jackets. See: simplicity.
So this spring, have a picnic. Stroll around a museum. Drive a motorcycle or some other top-free vehicular device. Doesn't really matter, you'll just want to do it in this stuff. Selection is currently limited, but look around the site for a glimpse of the abstract graphic T-shirts and hot-pink pants you'll grace the office with soon.
And by office, we mean probably not the office.