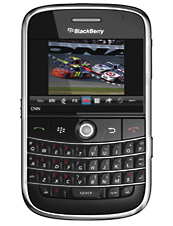 We were promised a lot—flying cars, robot maids and a Schwarzenegger presidency, for starters—but technology is finally starting to come through on at least one of its promises.
That's right, television has finally come to that precious bundle of plastic you call a BlackBerry, courtesy of
Slingbox
.
The BlackBerry app was released quietly a couple months ago, and now that it's spent some time in the UD Labs, we're ready to declare it fit for public consumption. After a quick download, your BlackBerry will be equipped to give you all the joys of your cable box remotely. In other words, you'll have 500 channels in your pocket, along with the dozen hours of
House
you've got on your DVR. (Spoiler alert: it's not lupus.) You'll have to keep a WiFi signal—making it better suited to cabs than the subway—but then the world (and the Viacom empire) is your oyster.
You'll need a BlackBerry, Windows Mobile, Palm or Symbian smartphone (the iPhone version should be ready this spring), along with a Slingbox to sit on top of your TV, the
phone app
to connect the two and probably a pair of headphones in the bargain—but then you're ready to kick back and turn the elevator into your own private screening room.
As for getting some popcorn…you can always make a few calls.