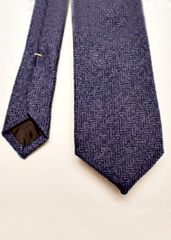 And for our next trick...
We're going to pull a tie out of a website.
Congratulations. You've just witnessed the world's worst magic trick.
But hey, you're not here for magic...
You're here for
Huntz & White
, a local duo's new neckwear line of intensely rakish limited-run ties that are essentially spring in Italian-fabric form, online now.
One day, this fashion designer (that's Huntz) got together with this moonlighting tie aficionado (that's White) and they started making beautiful music together (that's a metaphor for these ties). Simple enough. Only they made them from vintage fabrics that you can't find anywhere else. Which means they almost never make more than eight of the same tie. Which is... interesting.
Because here's the thing. The pastel linens you're seeing online now have all been spoken for already. But another, even springier batch will be available soon. Very soon.
So your strategy:
like them on Facebook
. Then, the moment that shipment is in, jump. For something like a striped blue-and-white chambray number that you'll wear to Easter brunch. Or a hunter-green raw silk tie that you'll wear to somewhere other than Easter brunch.
And look. If you really can't wait, they've got four bow ties available now. Only six were produced of each style. Like that pink-striped seersucker one.
Ah, yes. Your old friend seersucker.