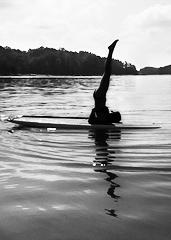 Let's review the facts.
Fact #1: Yoga isn't always your favorite.
Fact #2: Unless you're doing it on a paddleboard under a full moon in the middle of a lake.
Then yoga's kind of your favorite.
Strike a pose for
Atlanta SUP Yoga
, a significantly less indoor and significantly more surf-y form of yoga that takes place on a paddleboard. In the middle of Lake Lanier. In the dark. And you can book a session now.
Here's the good news: it's going to be in the 70s this weekend. Here's the other good news: that's your minimum temperature requirement for hopping on a paddleboard and bending in ways that will test both your balance and your ability to pose like a happy baby while floating in the middle of a pitch-black lake. Call it a coincidence.
So meet Amy. She's your new yoga instructor/lifeguard. Get a small group together and schedule an appointment with her. Schedule one with her at night. Then, after the short trek to Lake Lanier, she'll give you a paddleboard and a headlamp (it's for seeing things).
After a quick rundown, you'll paddle out 15 minutes from shore and start doing some standard yoga poses. You'll look up at the stars. You'll feel all peaceful. You'll... be floating while doing yoga.
And that's got to count for something.